1. Create a free NeverBounce account
Getting started with NeverBounce is free and easy. If you have an existing account visit https://app.neverbounce.com/login to sign in. If you don't have an account, click here to register: https://app.neverbounce.com/register.
2. Validate bulk list(s)
Click "Add List"
The fastest way to begin validating your lists is by clicking "Add List" on the right. From here you have two options-- upload a list directly from your computer, or connect to one of our ESP integrations to import a list. For more details on how to format your list for uploading, read this.
By default, the import option will select "Upload From Computer". Once you have an integration(s) connected, you can click the star icon on the right of the list item to select the integration as your new default.
If you wish to disconnect an integration, hover over a connected integration list item and you will see an unlink icon. Clicking this will give you the option to disconnect. You may reconnect at anytime.
Click "Analyze My List"
Once your list has been uploaded you will have the option to analyze your list before cleaning. This is free and will provide you with a recommendation on whether or not you should pay to clean your list.
Click "Clean My List"
If your list requires cleaning, click "Clean My List" to begin. You will have the option to "Pay using credits" if you have pre-purchased bulk credits, or pay using credit card. If you pay using credits the list will start immediately. If you select pay using credit card, you will be required to enter your credit card information before processing. More information on pricing and billing can be found here.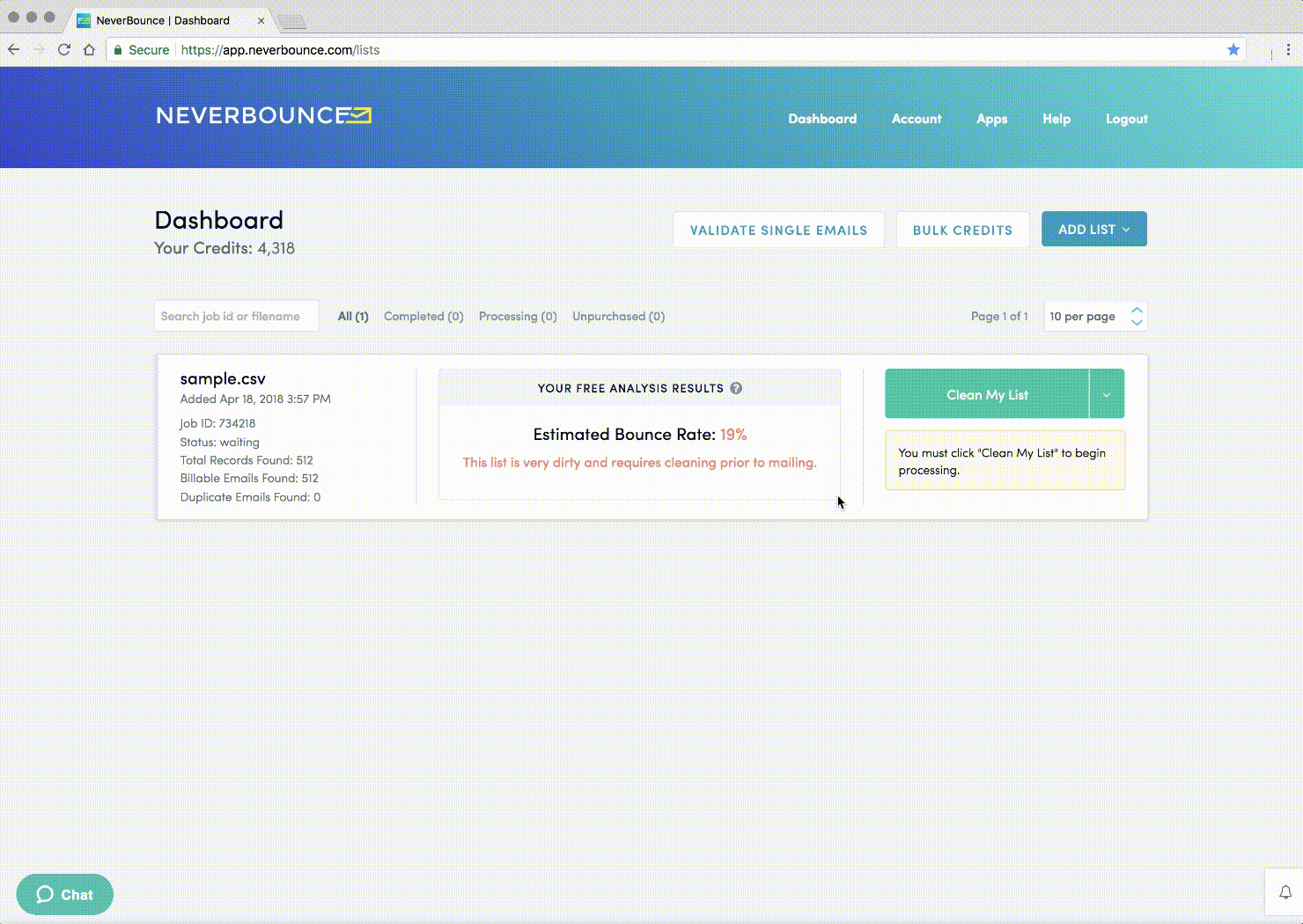 Download Your Results
You will see the list begin to validate immediately. You will receive an email when the list has completed and is ready for download. Click "Download" on a completed list to download your clean list. When you click "Download" you will see custom options to download different segments of your results. Most commonly, you will want to download "Deliverable" results. This list includes only "valids" and is safe for uploading and sending from your email service provider.
3. Validate single emails
In order to validate one email at a time, click "Validate Single Emails" at the top. Validation costs 1 credit per email, and you can enter the email and receive an immediate result.